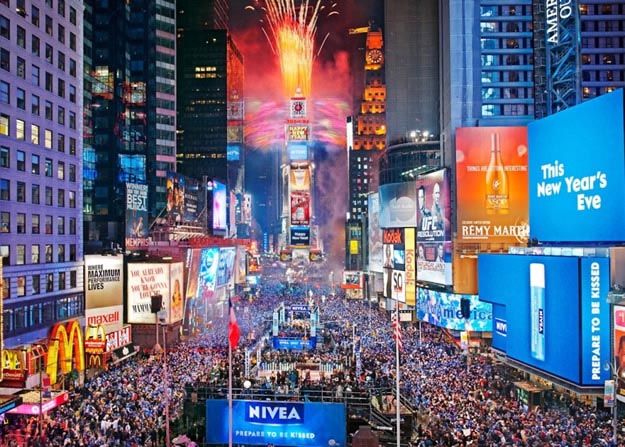 The New York Times Square Ball Drop experience could easily end up on anybody's bucket list. It is a big event that would require you to carefully plan for it especially if you are not willing to spend $250-$300 for a pass. By approximately 3:00 p.m., the bow tie of Times Square which is the blocks from 42nd to 47th streets between Broadway and 7th avenue will be fully closed to traffic and pedestrian. Revelers are expected to arrive early and the time that barricades will be put up will depend on how fast areas gets filled up. The earlier you arrive, the closer you will be to the action.
The sound system is set up where Broadway and Seventh Avenue cross, and the video screens on One Times Square (where the Ball is lowered) are easily visible.
There are no portable restrooms and there will be no licensed food and beverage vendors in the area during the celebration.
The celebration begins with the lighting and raising of the New Year's Eve Ball at 6pm, Festive purple and yellow New Year's Eve hats along with purple balloons tied with purple mylar ribbon and red scarves were distributed last year.
I will update this post for the 2017 Times Square New York New Year's Eve schedule soon.
With all the mentioned important information, there's no doubt that you really have to plan for this. That's 9 hours of no available bathroom and no food and drinks to buy plus you have to stay in your block once the NYPD barricades the area.
We tried to get close to the stage for 3 consecutive years with our friends but only succeeded when my husband and I decided to go by ourselves.
We booked a reservation for an
NYE 5-course dinner
at 9 pm, usually at this time it will range from $150-$300 per person. The NYE countdown parties starts at 11 pm, it costs from $200-$1000 and the cheapest tickets doesn't come with a real filling meal.
We had dinner at the Dervish Mediterranean Restaurant and ended at 11 pm. I was hoping that because we were already in the area, we could easily go inside pass the other barricades. Wrong!
We were observing other people who were trying to get inside the 7th avenue get denied by the NYPD officers. I was already feeling down and losing hope. I felt like it would be another failed attempt.
Husband had an idea of booking a hotel reservation for Marriott Marquis. He booked for a date that would allow us to cancel it without a penalty and then he edited the date that would look like we are staying there for the New Year.
At first I didn't agree because I was so nervous that we're going to get caught but he said he really wanted to make it happen for me. We casually approached the officers and showed the confirmation of the booking. He let us in and gave us an escort.
It was amazing! I really wanted to cry when we were singing New York, New York. It's a dream come true. It's a blessing. It's New York!
Experience the Times Square New Year's Eve Ball Drop -
👍
Aall wishes submitted after December 28, 2016 will be printed for
the New Year's Eve celebration on December 31, 2017.